The theatrical play "Women of Passion, Women of Greece", a production of the Railway Carriage Theater to Treno sto Rouf directed by Tatiana Ligari closes the winter season after a successful series of shows and is getting ready to travel to Australia.
The English speaking play by Jenny Arsenis, watched by a very large and diverse audience of different nationalities, associations and unions of women in Greece, Diaspora Greeks, Greek and foreign students, ambassadors and diplomats, as well as the Greek President Prokopios Pavlopoulos, will be presentedon 21/4 in Adelaide, on 23/4 in Sydney as part of the Greek Festival of Sydney and on 27/4 in Darwin, the capital of the Northern Territory of Australia, where the Aborigins live
Three mythical female figures, Medea, Maria Callas and Melina Mercouri, take us on a life journey to contemporary Greece. The tragic character of Ancient Greek Drama meets the two priestesses of modern Greece. A common characteristic connects their different paths, passion; passion for life, passion for love, passion for creation, passion for freedom. History, culture, the power of the Greek soul, the struggle for democracy become alive by an actress and a musician and guide us through this enchanting voyage of creative memory, humor and emotion, where Greece is the point of departure and arrival at the same time, with stops in the hearts of people around the world.
Eugenia Arsenis writing/dramaturgy Tatiana Ligari direction/stage design/ Dora Lelouda costume design / Fotis Mylonas music composition/ Spyros Rasidakis videodesign / Sakis Birbilis lighting design / Danae Koureta headdresses
CAST
Evelina Arapidi actress / Fotis Mylonas vocals, guitar, mandolin, bansuri, percussion instruments
Duration 60΄
The play is under the auspices of the Greek Tourism Organization.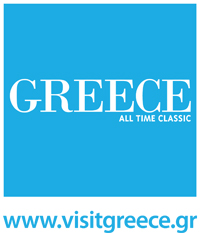 With the kind support of the City of Athens Cultural, Sport & Youth Organization (OPANDA).